"Cheerful Helpers showed me what I did not know was possible"
The Socialization Group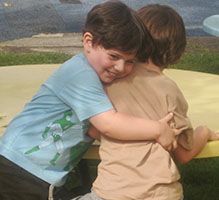 Connecting with peers is not easy for everyone.  Through our social skills program, for children ages 3 -10, students learn to share ideas and listen to others. They gain basic skills to feel successful on the playground, in the classroom and at home with family. Our small playgroups, composed according to age and developmental ability, meet twice a week. Students attend social skills while remaining enrolled in a school program. Our groups, facilitated by child and family therapists, are designed to enhance peer relationships and teach children about their feelings and how to appropriately express them. To learn more about our socialization groups email Jaclyn Epstein at jaclyn.epstein@cheerfulhelpers.org.
Regional Center vendor #PD1245
Families may be eligible for reimbursement through private insurance